Pricing
Software Pricing & Registration
Find your trading platform below to see Keyboard Trader pricing:
TT Platform or X_TRADER® Pro from Trading Technologies, International, Inc.
CQG
T4 from CTS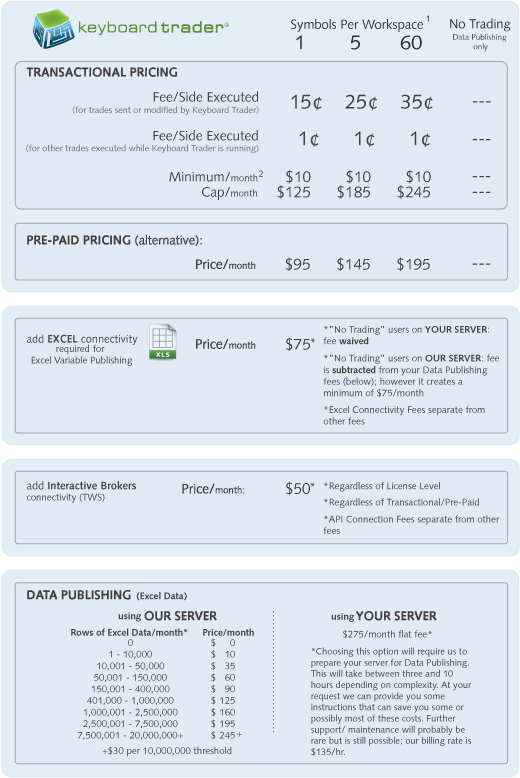 TWS from Interactive Brokers
See technical specifications of the version you are considering as they differ slightly.
Are you part of a trade group? Inquire about bulk pricing.
Keyboard Pricing
We offer Keyboard Trader trading keyboards for $375. Keyboards may be returned at any time within 15 months for a refund of the sale price minus $24.95/month of use.3
If you want to order a keyboard along with our software, use the Software Registration form above in the appropriate trading platform section. If you just want a keyboard and/or keys, either use the Keyboard and Key Order Form or just send an email with your order to sales@keyboardtrader.com.
---
TT® Platform, X_TRADER® Pro and X_TRADER® API are trademarks (registered or otherwise) of Trading Technologies International, Inc. Trading Technologies International, Inc. assumes no liability in connection with the use of Partner's [or other applicable party's] services by any person or entity.
1Only limitation is the number of products allowed per workspace. However you can open different workspaces with different products during the day. Different expirations are considered different products.
2Monthly minimum only applies for months that you login.
3Shipping fees will apply on hardware except for customers picking up at Chicago office. Sales and use taxes will be added in states where Bionic Trader Systems is registered to collect tax. In other states, the licensee has the obligation to remit use tax where applicable. Bionic Trader Systems reserves right to charge a $25 cleaning fee on returned keyboards. See Software Registration for billing procedures and other information. Information provided on website and Software Registration are valid only for sales within the United States. Please inquire about sales to other countries. 
Microsoft Excel is a registered trademark of Microsoft Corporation in the United States and other countries.